[Traduction française ci-dessous.]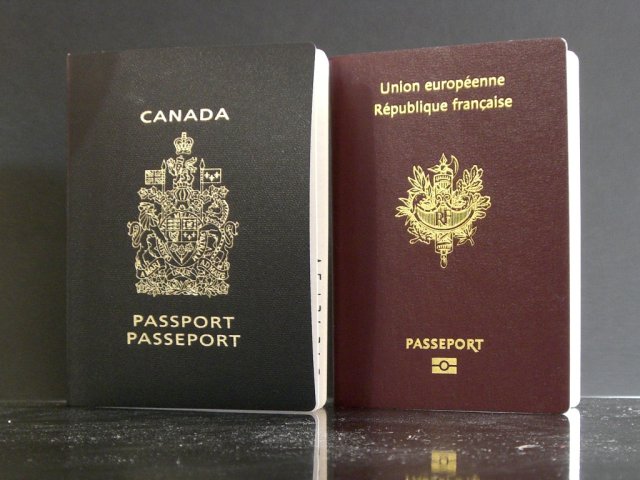 It's official now: having successfully answered such difficult questions as What is your name?, What is your quest? and Where was your great-grandmother born?, I can proudly claim the right to be a lumberjack or taunt King Arthur with an outrageous accent.
Seriously, both passports were delivered quickly and are very nice to look at: they have all sorts of colorful holograms on page two, background watermarks on all pages and other presumably very advanced anti-piracy features which I can't show you because I'm sure if I do as much as put a photo of the inside on this blog I'll spend the rest of my life rotting in jail. (That, and the fact that my ID photo looks really awful.) The French one has more bells and whistles because it has an RFID chip inside which conclusively guarantees the end of my privacy wherever I carry it, and also it has everything inside written in eleven languages; but the Canadian one has this very nice letter by the Minister of Foreign Affairs of Canada, in the name of Her Majesty the Queen, requesting all those whom it may concern to allow the bearer to pass freely without let or hindrance. Both have a spiffy golden coat of arms on the front cover and I notice that Canada's now bears the motto desiderantes meliorem patriam which wasn't there on my previous Canadian passport (ah, indeed, it was added in '94). Oh, and while I'm at it, I was shocked to find out that no portrait of Her Majesty the Queen is displayed in the Canadian embassy in Paris (though there is one of the Lieutenant-General and one of the Prime Minister).
Whatever. The good news is that I'm leaving for Toronto on April 10–19 since I was able to find a flight (for less than 650€)—and a week's free time.
[French translation of the above.]
C'est officiel : ayant répondu avec succès à des questions très difficiles comme Quel est votre nom ?, Quelle est votre quête ? et Où est née votre arrière-grand-mère ?, je peux fièrement revendiquer le droit d'adopter un castor ou de me moquer du roi Arthur avec un accent ridicule.
Sérieusement, les deux passeports m'ont été remis rapidement et sont très jolis à regarder : ils ont toutes sortes d'hologrammes colorés en page deux, des empreintes de fond sur toutes les pages et d'autres mesures certainement très avancées contre le piratage que je ne peux pas vous montrer parce que je suis sûr que si je me risque à mettre une photo de l'intérieur dans ce blog je passerai le reste de ma vie à pourir en prison. (Ça, et le fait que ma photo d'identité a vraiment une sale gueule.) Le français a plus de gadgets sophistiqués puisqu'il a une puce RFID à l'intérieur qui garantit de façon concluante la fin de ma vie privée partout où je le porterai, et il a aussi tout écrit en onze langues ; mais le canadien a cette jolie lettre du ministre des Affaires étrangères du Canada, au nom de Sa Majesté la Reine, priant les autorités intéressées de bien vouloir accorder libre passage au titulaire de ce passeport. Tous les deux ont d'étincelantes armoiries dorées sur la couverture et je remarque que celles du Canada portent maintenant la devise desiderantes meliorem patriam qui n'était pas là sur mon précédent passeport canadien (ah, effectivement, elle a été ajoutée en '94). Ah, à ce propos, j'ai été choqué de voir qu'il n'y a pas de portrait de Sa Majesté la Reine affiché dans l'ambassade canadienne à Paris (alors qu'il y en a un du Lieutenant-Général et un du Premier ministre).
Bref. La bonne nouvelle, c'est surtout que je pars à Toronto les 10–19 avril puisque j'ai réussi à trouver un vol (à moins de 650€) — et une semaine de temps libre.