[Traduction française ci-dessous.]
Well, we have come to my half thousandth entry in this blog, 282 days after I started it. Thanks to all those who've been reading my daily prose and to those who posted the 1394 comments so far (another 270 are by me, and 275 were deleted).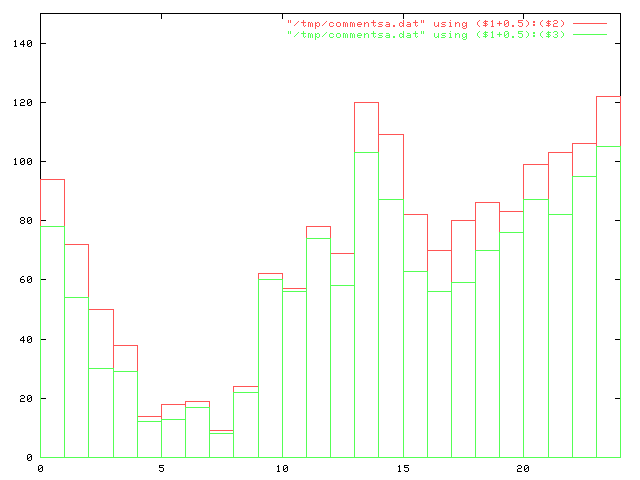 Since I can't really produce any useful statistics for the blog entries themselves, here's something about the comments: the graph on the left (click to enlarge if it is unreadable) shows the number of comments that were posted in each hour slice (in the Paris time zone, for once). The green bars show the number of comments by everyone but myself and the red bars show the total number. Thus, only 9 comments were posted between 7AM and 8AM, whereas there were 122 between 11PM and midnight.
PS: Remember that this blog is best viewed with the Mozilla Web browser (because it will display the number of comments after each entry). In any case, Mozilla is the best Web browser on earth: it is free (both as in "free beer" and as in "free speech"), it is standards-compliant, it is feature-rich, it will remove popup ads and filter spam from your mailbox, it comes with half a million extensions (including a highly useful Googlebar for making the best out of Google), it is friendly, it looks good, it will make your teeth whiter and your karma greater, and it will take over the world. Use Mozilla!
[French translation of the above.]
Eh bien, nous voici arrivés à ma demi-millième entrée dans ce blog, 282 jours après que je l'ai commencé. Merci à tous ceux qui ont lu ma prose quotidienne et à ceux qui ont posté les 1394 commentaires jusqu'à présent (il y en a encore 270 de moi, et 275 qui ont été effacés).
Puisque je ne peux pas vraiment produire de statistiques utiles pour les entrées du blog elles-mêmes, voici quelque chose à propos des commentaires : le graphe ci-dessus à gauche (cliquez pour agrandir s'il est illisible) montre le nombre de commentaires qui ont été postés dans chaque tranche horaire (pour l'heure de Paris, pour changer). Les barres vertes montrent le nombre de commantaires par tout le monde sauf moi et les rouges le nombre total. Ainsi, seuls 9 commentaires ont été postés entre 7h et 8h du matin, tandis qu'il y en a eu 122 entre 23h et minuit.
PS : Souvenez-vous, il vaut mieux voir ce blog sous le browser Mozilla (parce qu'il montrera le nombre de commentaires sous chaque entrée). De toute façon, Mozilla est le meilleur browser Web sur Terre : il est libre et gratuit (ou gratuit et libre), il est conforme aux standards, il est plein de bonnes choses, il retire les popups et filtre le spam de votre boîte aux lettres, il vient avec un demi-million d'extensions (dont une très utile Googlebar pour tirer le meilleur parti de Google), il est gentil, il est beau, il vous donnera des dents plus blanches et un karma plus fort, et il dominera le monde. Utilisez Mozilla !